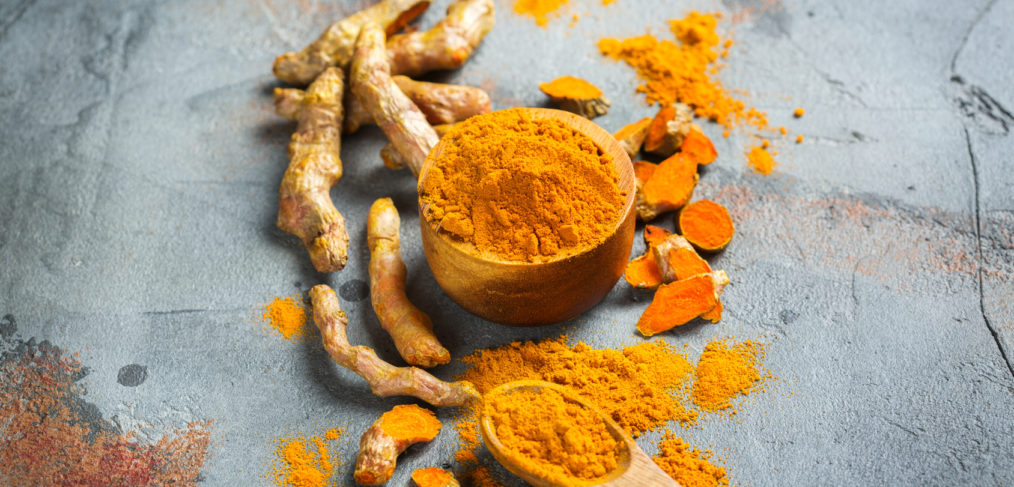 Turmeric: The Ultimate Mood Food
Is Turmeric really the Ultimate Mood Food?
By Chantelle van der Weyden, Clinical Nutritionist and Naturopath
Turmeric has been in its heyday for quite some time now and its actions as a powerful anti-inflammatory and antioxidant are well established (1).  Perhaps a little less known is the effect turmeric may have on mental health, and its potential action as an antidepressant.
There are a number of recent studies demonstrating the effectiveness of curcumin (the active constituent within turmeric) in reducing subjective symptoms of depression (2). One such study found that mood related symptoms of depression significantly improved following 8 weeks of daily supplementation; while another study found that curcumin supplementation produced similar effects to a commonly prescribed pharmaceutical antidepressant (4). Major depressive disorder is often associated with some cognitive dysfunction such as memory loss and difficulties with concentration. There is emerging evidence to suggest that curcumin may alleviate some of these symptoms (5), allowing for a speedier functional recovery. Several studies have also demonstrated that curcumin supplementation improves the effectiveness of antidepressant medication (6).
How does it work?
Inflammation is a known player in the development of depression (7), and by dampening the inflammatory response curcumin may influence depressive symptoms. Dysregulation of monoaminergic activity is also linked to the pathogenesis of depression (8), and curcumin has been shown to inhibit monoamine oxidase thereby modulating neurotransmitters such as dopamine, serotonin and noradrenaline (so basically it plays a role in balancing those neurotransmitters that are essential for healthy mood function). Curucmin may also assist with the production of glutathione, which is a very important antioxidant required for brain health.
Pretty amazing stuff highlighting that food really is medicine!
Should you be consuming curcumin?
As a natural health practitioner I would never encourage someone to cease antidepressant medication and swap it for a turmeric supplement. And co-administration of curcumin and antidepressant medication must be discussed with your naturopath and GP or psychiatrist. However, adding turmeric to your diet is a great idea for both those feeling a little blue right through to those diagnosed with major depressive disorder.
It is important to note that the bioavailability of curcumin (how much your body is able to actively use) is quite low. However, consuming it with a little black pepper and a fat source significantly improves absorption (9).
Here are some ways to get turmeric into your diet:
You're pretty hard pressed to find a café that doesn't serve a turmeric latte of some sort (hello sweet warming deliciousness). You can also make them at home using pre-made mixes (like this one, or this one), or using a recipe like this one.
Most curry recipes call for turmeric.
It's a delicious addition to your morning scrambled eggs (scramble through about a quarter to half a teaspoon).
You can use it to season meat, chicken, fish and roast vegetables.
You can add it to your morning porridge or smoothie.
Stir through rice or quinoa.
You can even use it in baking, adding it to a pumpkin loaf or savorier muffins.
As discussed above curcumin is available is supplement form, and it is via therapeutic dosing that these exciting developments in depression have been demonstrated. Please note, it is extremely important that you speak to a practitioner first as supplementation isn't right for everyone (specifically those on antiplatelet and anticoagulant medications, and those having surgery).
If you have any questions or comments I'd love to hear from you!
Love Chantelle
x
Appointments with Chantelle can be made via our online booking module or by contacting the clinic directly. If you live out of area Skype consultations can be arranged.
(1) Zhou, H., Beevers, C. S. & Huang, S. (2011). The targets of curcumin. Current Drug Targets, 12(3), 332-347.
(2) Al-Karawi, D., Al Mamoori, D. A. & Tayyar, Y. (2016). The role of curcumin administration in patients with Major Depressive Disorder: mini meta-analysis of clinical trials. Phytotherapy Research, 30(2), 175-183.
(3) Lopresti, A. L., Maes, M., Maker, G. L., Hood, S. D. & Drummond, P. D. (2014). Curcumin for the treatment of major depression: a randomised, double-blind, placebo controlled study. Journal of Affective Disorders, 167, 368-375.
(4) Sanmukhani, J., Satodia, V., Trivedi, J., Patel, T., Tiwari, D., Panchai, B., Goel, A. & Tripathi, C. B. (2014). Efficacy and safety of curcumin in Major Depressive Disorder: a randomised controlled trial. Phytotherapy Research, 28(4), 579-585.
(5) Bortolato, B., Miskowiak, K. W., Köhler, C. A., Maes, A., Fernandes, B. S., Berk, M. & Carvalho, A. F. (2016). Cognitive remission: a novel objective for the treatment of major depression? BMC Medicine, 22, 14.
(6) Yu, J. J., Pei, L. B., Zhang, Y., Wen, Z. Y. & Yang, J. L. (2015). Chronic supplementation of curcumin ehances the efficacy of antidepressants in Major Depressive Disorder: a randomised, double-blind, placebo-controlled pilot study. Journal of Psychopharmacology, 35(4), 406-410.
(7) Raison, C. L., Capuron, L. & Miller, A. (2006). Cytokines sing the blues: inflammation and the pathogenesis of depression. Trends in Immunology, 27(1), 24-31.
(8) Lopresti, A. L., Maes, M., Meddens M. J. M., Maker, G. L., Arnoldussen, E., Drummond, P. D. (2015). Curcumin and major depression: a randomised, double-blind, placebo-controlled trial investigating the potential of peripheral biomarkers to predict treatment response and antidepressant mechanisms of change. European Neuropsychopharmacology, 25(1), 38-50.
(9) Prasad, S., Tyagi, A. K., & Aggarwal, B. B. (2014). Recent developments in delivery, bioavailability, absorption and metabolism of curcumin: the golden pigment from golden spice. Cancer research and treatment: official journal of Korean Cancer Association, 46(1), 2-18.